The Social Innovation Atlas
This atlas showcases different maps of social innovation projects worldwide. It aims to visualise the challenges, opportunities and impacts of these projects using data and mapping tools that are already available. It also enables members to communicate and collaborate on topics of common interest, creating a dynamic and interactive map of open and global innovation.
All data and maps are based on the Internet of Production Alliance reports for the mAkE project consortium. You can access the complete reports by clicking here. We plan to include more maps and datasets in this atlas. As the planet's needs increase daily, so do the social innovation initiatives and, consequently, this atlas.
This atlas is also a valuable resource for the social innovation community, funders and supporters, as it provides insights into the needs, gaps and opportunities in different regions and sectors.
Machinery, Facilities and People
Capabilities
Machines count by type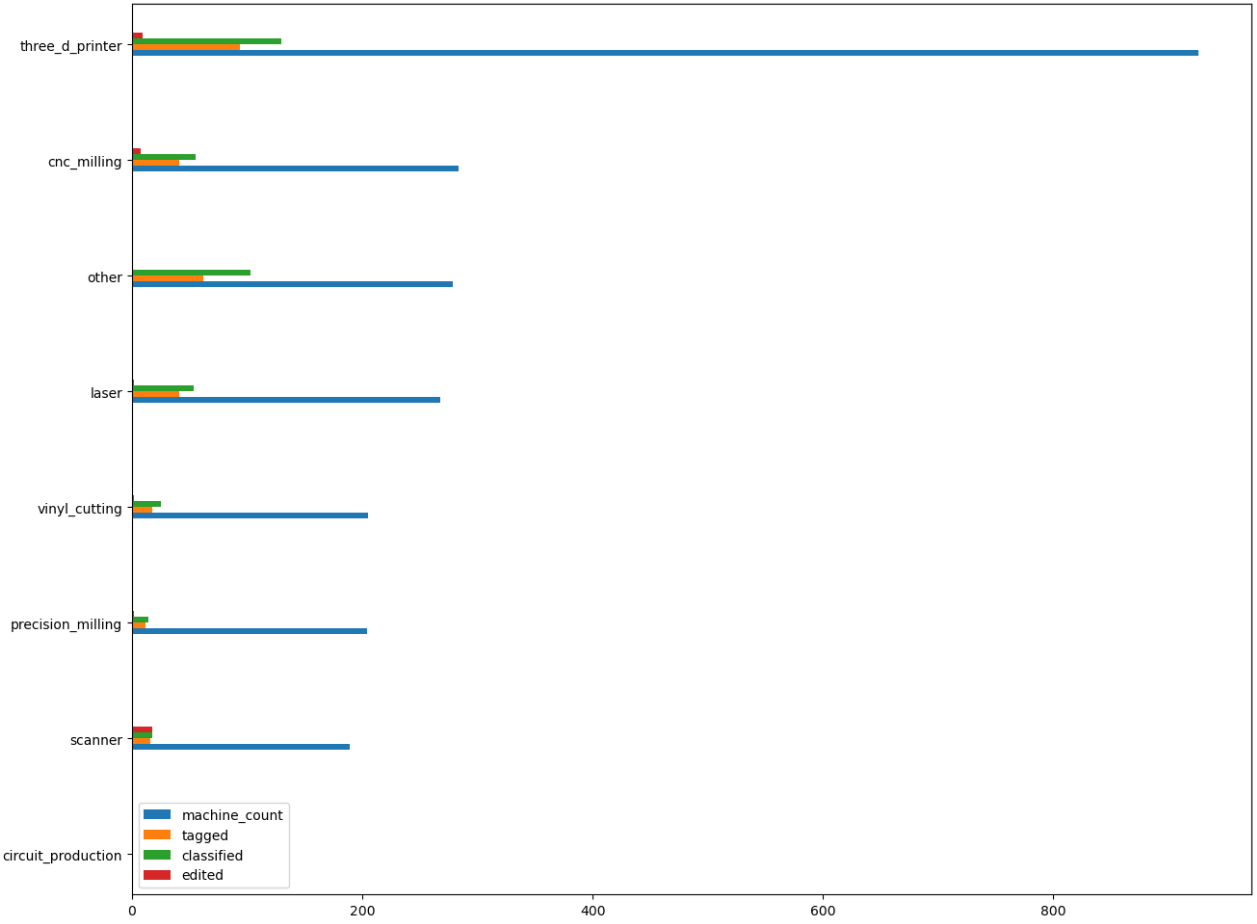 This Atlas classifies the machines used in maker labs and innovation hubs worldwide into six categories: 3D printers, CNC millings, laser cutters, vinyl cutters, precision millings, and scanners. Among these, 3D printers are the most common machines, accounting for almost three times the number of equipment in such spaces. They are versatile machines that can create complex shapes and structures from digital models, enabling rapid prototyping, modelling, design and education. CNC milling is the second most common machine, followed by laser cutters. CNC milling uses a rotating blade to cut or engrave wood, metal or plastic. They can manufacture more complex or precise parts requiring more significant control over the machining process. Laser cutters use a laser beam to cut or mark materials such as paper, fabric, acrylic or MDF. They can help to make artistic, decorative or functional projects that require a clean and fast cut. The other categories of machines are less prevalent in maker labs and innovation hubs, but they may also have critical applications and uses.
3D Printers by model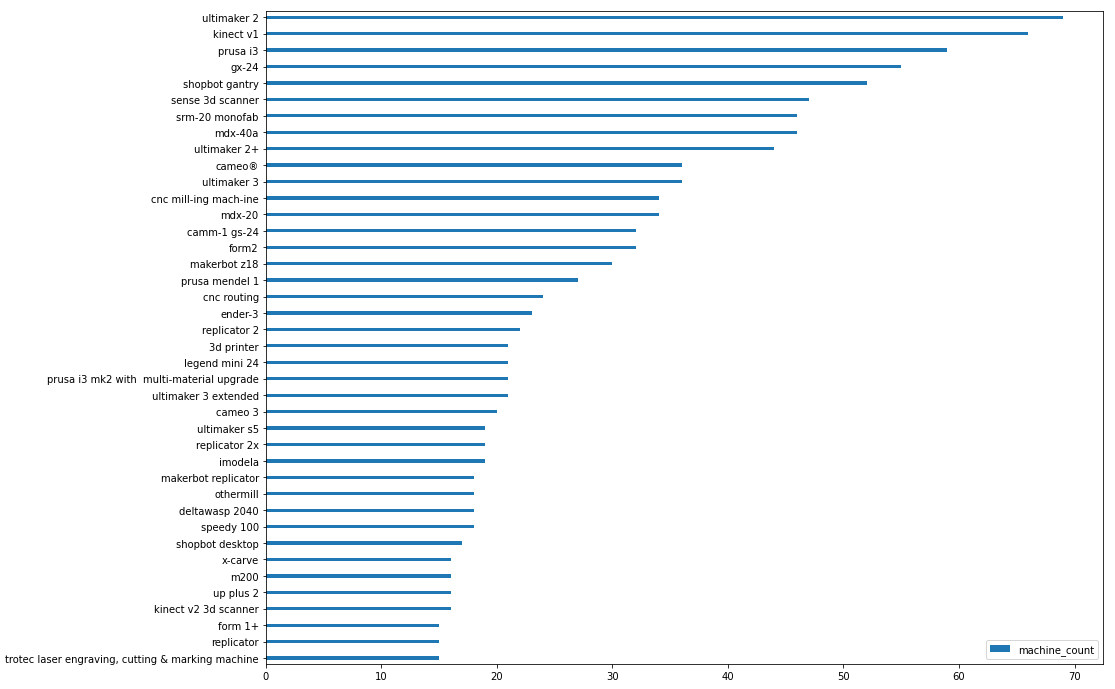 3D printers are devices that can create physical objects from digital models by depositing layers of material. They are widely used in maker and prototyping labs, where people can design and test their inventions, products, or artworks. 3D printers enable rapid prototyping, which means that ideas can be turned into tangible prototypes quickly and cheaply. This can foster creativity, innovation, and collaboration among makers and engineers.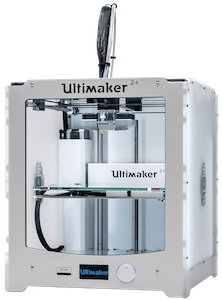 According to the report, the most common 3D printers and equipment in Fablabs worldwide are Ultimaker 3D, Kinect, and Prusa i3. A possible reason for this preference for Ultimaker 3D is that it is a high-quality printer with dual extrusion. It is open-source and compatible with diverse materials and software. It also has a good printing volume, a touchscreen and network connectivity. These features may make it more versatile, reliable and easy to use than other 3D printers. The Kinect is a 3D camera that can scan objects and people in three dimensions. It can be helpful for Fablabs that want to create 3D models from real things or make interactive projects with motion sensors. The Prusa i3 is another open-source 3D printer with a lower cost and an active community of users and developers. It can be attractive for Fablabs that want to save money or customize their printers.
Laser Cutter Machines by Models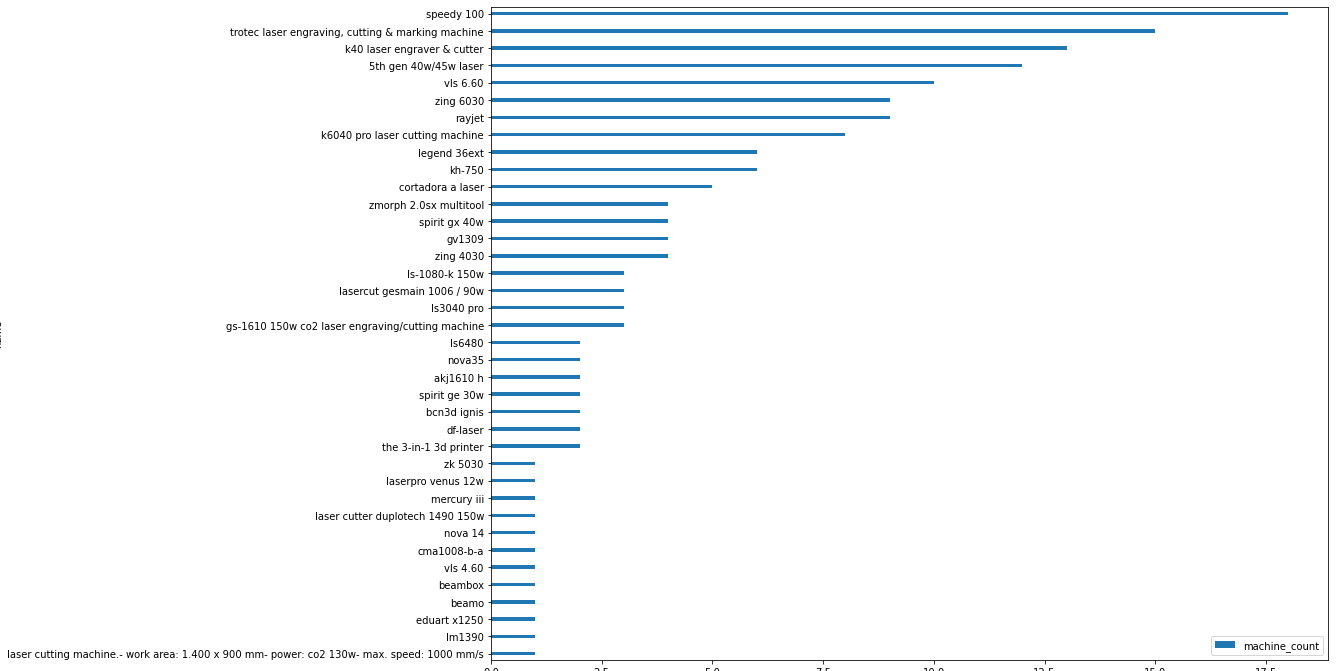 The most popular laser cutters in makerspaces worldwide are the Speedy 100, the Trotec and the K40 Engrave. The Speedy 100 is a laser engraving and cutting machine from the Trotec brand, also producing the second place on the list, Trotec. The Speedy 100 has high engraving speed, laser power, and an OptiMotion TM motion control. It is one of the fastest and most productive machines on the market. The labs seem to prefer this brand, as they have chosen two of its models as their top choices. They may value its quality, performance and versatility, or maybe they just like the name. The Trotec is another laser engraving and cutting machine that uses a CO2 laser source to process non-metallic materials and most plastics. The Trotec machines are reliable and recognised in the industry, but they may also have other alternatives more suitable for different projects. The K40 Engrave is a low-cost laser cutting machine with a bed size of 300mm x 200mm, allowing it to engrave most medium-sized products. It carves at a speed of 1-300mm/s and cuts at a rate of 1-10mm/s, and it is effortless to use. In the third place, the K40 Engrave is the cheapest and simplest option, but also the least precise and powerful. It may be a good choice for beginners or hobbyists, but not for more demanding or professional work.
Vinyl Cutters by Models
Vinyl cutter machines allow users to create custom shapes and designs from various materials, such as vinyl, paper, fabric, or leather. Innovation hubs use vinyl cutter machines to make multiple applications, such as stickers, decals, logos, labels, signs, or clothing. They enable makers and prototypers to express their creativity and test their ideas quickly and affordably.
The GX-24 is the most used vinyl cutter in maker spaces. It offers high productivity and quality, with a digital control motor that can precisely cut up to 500 mm/s. It can also cut many materials and sizes and has an optical system that aligns the cuts with the printed images. It is easy to operate, with user-friendly software and a tidy LCD panel. It is a reliable and efficient machine with multiple applications that can produce high-quality and durable results. It is a popular choice among maker spaces, as it balances performance and price well.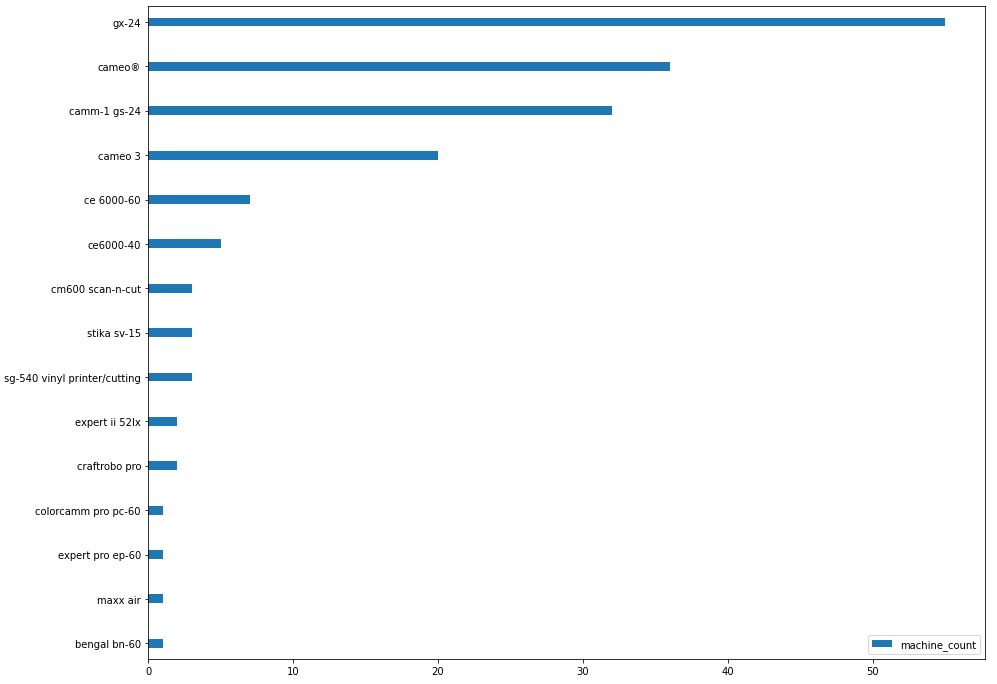 Precision Milling by Models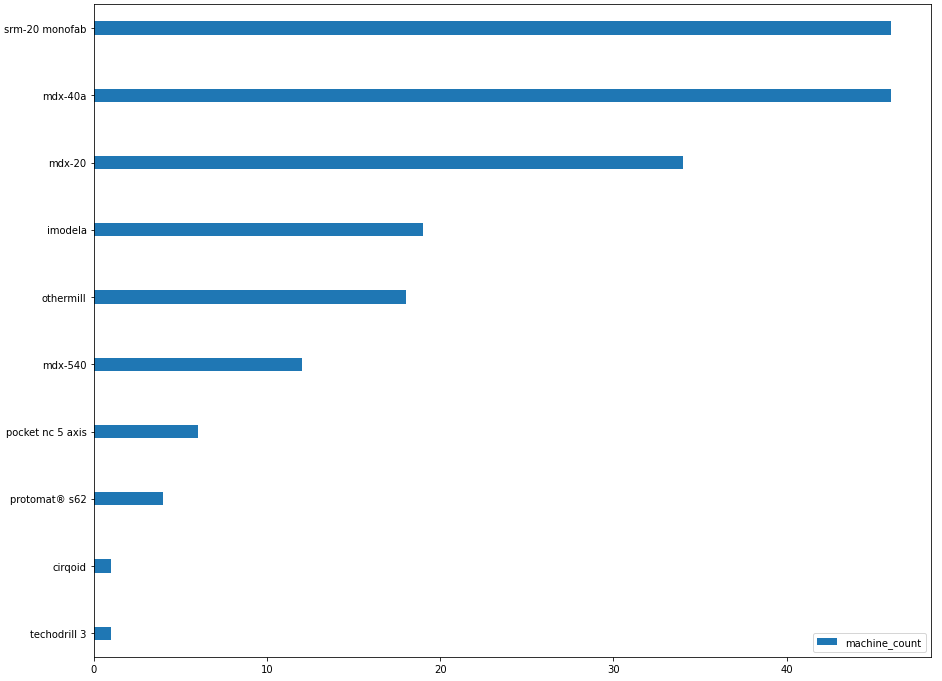 Precision milling machines use rotating cutting tools to remove material from a workpiece. They are widely used in maker and prototyping labs, enabling fast and accurate fabrication of custom parts and prototypes. Precision milling machines can create complex shapes and features with high precision and surface quality, essential for functional testing and validation of new designs. Precision milling machines offer flexibility and versatility, as they can work with various materials and tools. Some examples of parts produced by precision milling machines are gears, brackets, housings, moulds, and fixtures.
CNC Machines by Models
CNC (Computer Numerical Control) machines are pivotal in open hardware endeavors due to their precision and adaptability, where various types of CNC machines cater to distinct tasks. The most common types encompass CNC Milling Machines, which employ rotary cutters for tasks like cutting, drilling, and carving, and CNC routers, which are typically used for cutting and shaping wood, plastic, and other softer materials. Additionally, CNC lathes are instrumental in crafting cylindrical components, while CNC foam cutters find utility in model-making and packaging sectors.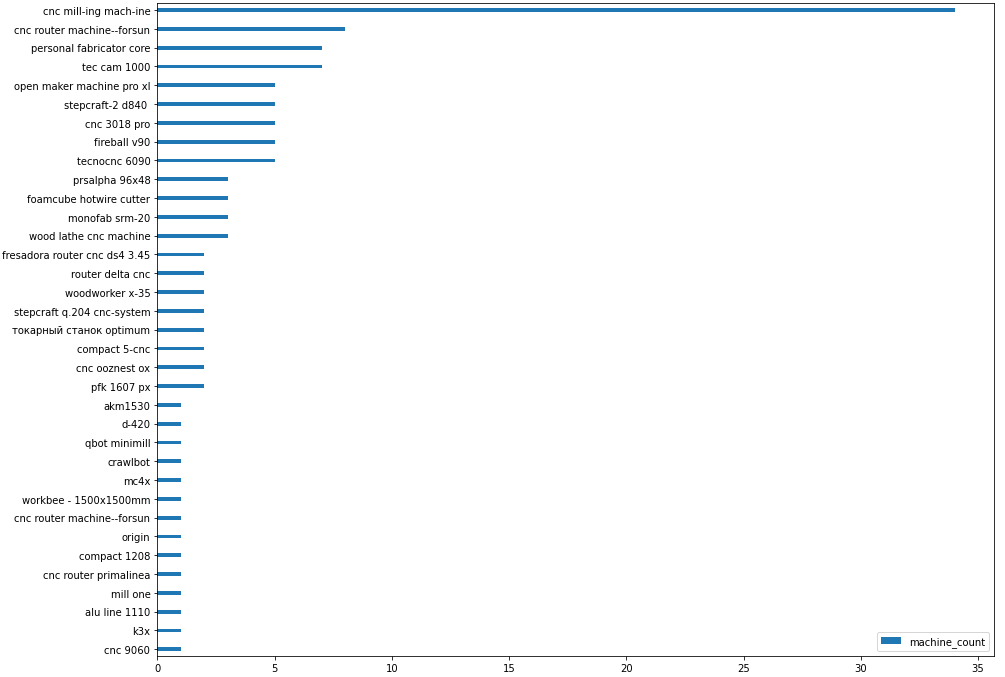 Machines and Capabilities – mAkE Consortium
mAkE builds on active networks of hardware-focused Digital Innovation Hubs (DIHs) and makerspaces in Africa and Europe and forges increased linkages between African and European networks. Through these activities, making seeks to scale the benefits received on both continents by innovators, entrepreneurs and start-ups collaborating at DIHs/makerspaces. Click to learn more.
FabLabs per Country – Africa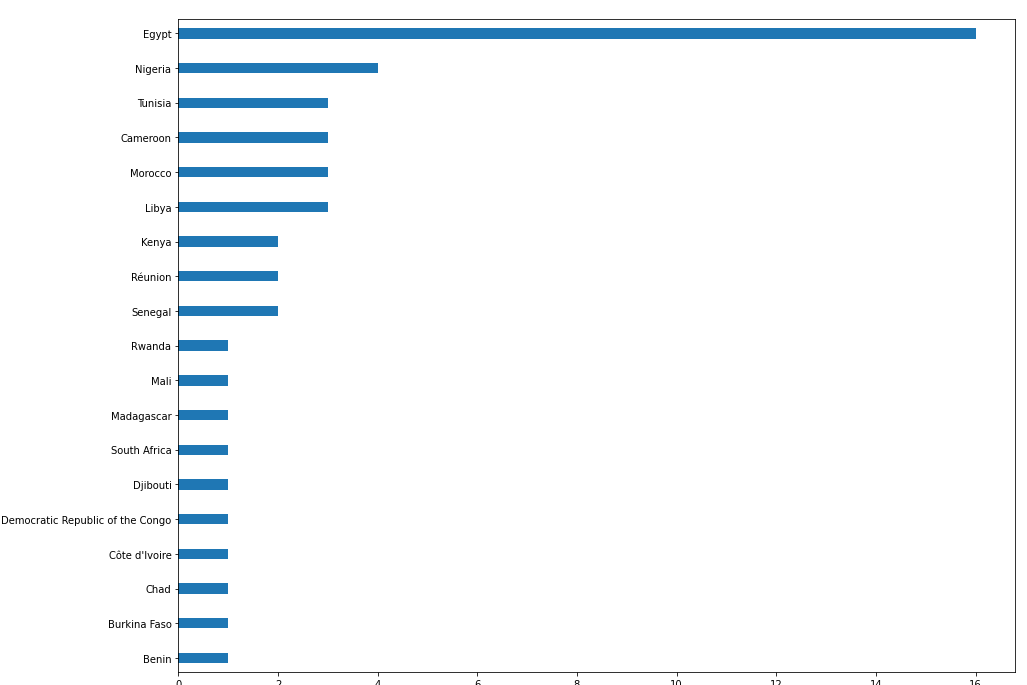 FabLabs per Country – Europe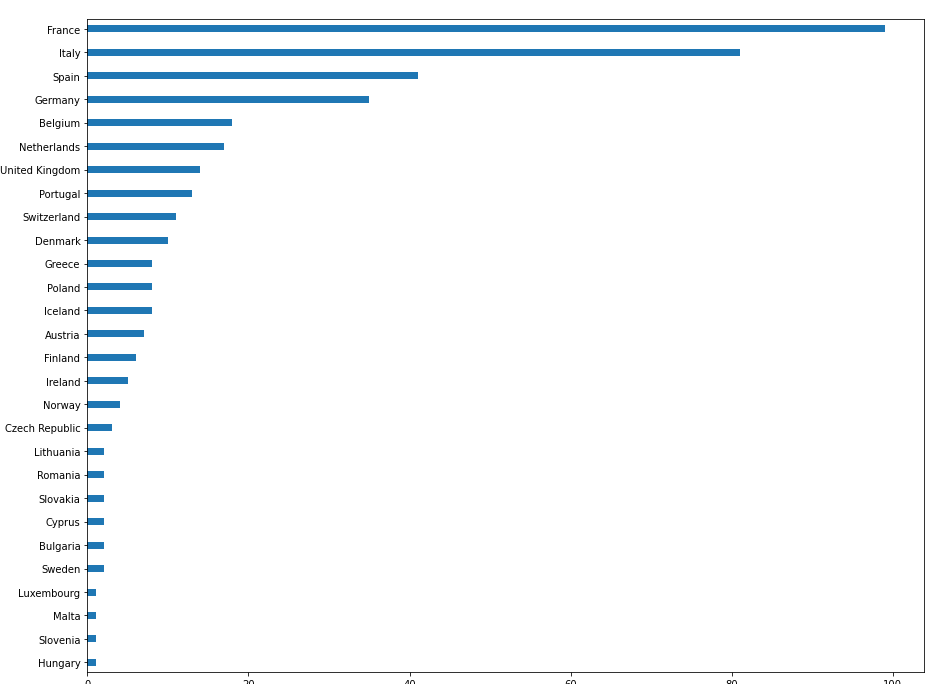 Many possible factors explain why there are more makerspaces and machines in Europe than in Africa, such as the level of economic development, the availability of resources and infrastructure, the cultural and social context, the political and legal framework, and the educational and training opportunities. According to a report by the European Commission, makerspaces and making activities have a long-term potential to bring innovation and creativity to education and training in Europe and to foster digital skills and competencies among learners. Some of the factors that could influence the growth and impact of makerspaces in Europe are:
The demand for digital skills and competencies in the labour market and society
The recognition and validation of learning outcomes from makerspaces and making activities
The integration of makerspaces and making activities into formal, non-formal and informal education and training
The collaboration and networking among makerspaces, educators, learners, employers, policymakers and other stakeholders
The availability of funding, resources, infrastructure, equipment, materials and tools for makerspaces and making activities
The innovation and creativity potential of makerspaces and making activities for solving local and global challenges
The ethical, social and environmental implications of makerspaces and making activities
Therefore, it is necessary to change the question to why there are more makerspaces and machines in Europe than in Africa, but rather to explore different scenarios and possibilities for the future. The African countries face many challenges, such as inequality, conflict, political instability, climate change effects, health issues and lack of access to education and technology. These challenges may limit the development and impact of makerspaces and making activities in Africa, requiring adequate resources, policies, infrastructure, equipment, materials and tools. However, some initiatives aim to overcome these challenges, support the growth and sustainability of makerspaces, and make activities in Africa. Fostering make activities in the region can develop new revenue streams for start-ups and SMEs, strengthen collaboration between digital innovation hubs/makerspaces at national, regional and intercontinental levels, improve links between digital innovation hubs/makerspaces and public-sector actors and policymakers, enhance digital skills and competencies among learners, educators, makers and entrepreneurs, and support local innovative production and social innovation for solving local and global challenges.
Latin America and The Caribean – LAC
Click on the top-right corner selector to switch on/off the interactive Markers.
Digitalisation in Latin America and The Caribbean emerged slowly but has rapidly increased in recent years. The gig economy has flourished, as a 2018 Forbes magazine article highlights. Various recent reports, such as the Latin America Economic Outlook published by ECLAC, the OECD Development Centre, CAF and the European Union in 2020, or the OECD report Shaping Digital Transformation in Latin America from 2019, have emphasised the tremendous potential for digital transformation bears in Latin America and the Caribbean. Opportunities range from fostering business innovation and good governance to supporting better access to public services, e.g., health and education. However, transformation and its possible outcomes are strongly interconnected with local and regional contexts. When it comes to Internet access, Latin America is far behind the OECD average, and the digital divide between rich and poor segments of society remains extreme. Moreover, economic inequality in the LAC region is severe. Latin America also lacks educational opportunities aligned with the skills required for digital transformation. Steep disparities exist within the countries' societies and between the countries in the region, frequently leading to disproportional investments in pilot initiatives in the region's countries.
LAC – 3D Printers per Country

LAC – CNC Machines per Country

LAC – Laser Cutters per Country

LAC – Active Prototypying Labs per Country

LAC – Robotics Labs per Country

LAC – Machines per City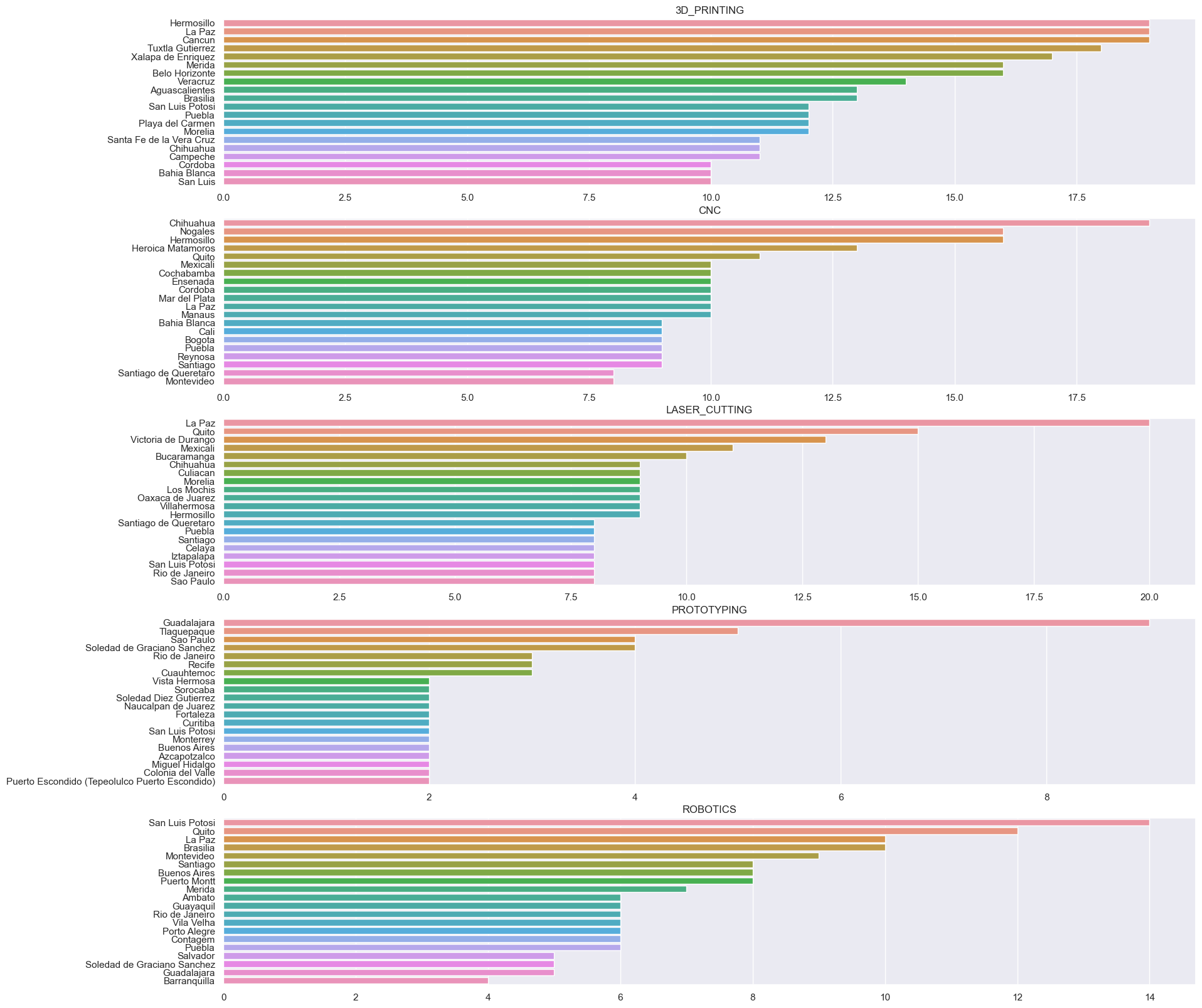 More Mapping Efforts
The Open Know Where (OKW) Standard is part of The Internet of Production Alliance and its members.
The data* on this page was collected by:
The Internet of Production Alliance,
FabFoundation,
OKW Data Awards
Global Innovation Gathering
*All the data featured in the Social Innovation Atlas is currently undergoing verification and updates, and is therefore not 100% precise at this moment. Sign up for our newsletter to be updated on the project!
Authors (up till now):
License: CC BY SA