30 September 2022
@
12:00 pm
–
2 October 2022
@
12:00 pm
GMT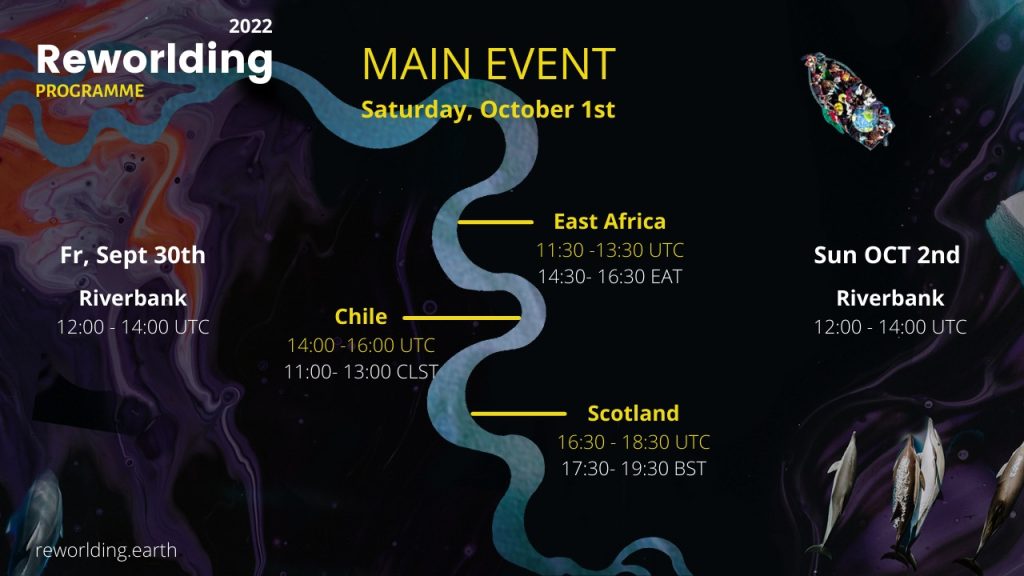 The second edition of REWORLDING will be held on October 1st, 2022!
Our political, economic and social systems are broken. They are based on breaking our relationship with human and non-human others, rather than on ensuring our collective well being. There are far better ways to make our collective decisions, ways that draw on the best of human nature and which enable everyone to live fulfilling, abundant lives.
Can the urgency of this moment and a deep listening approach, bring us together across issues and movements within local and grassroots assembly processes to effect immediate local changes, build alliances to bring pressure on the existing system, and – most importantly – catalyse systemic change?
In Reworlding you will hear stories and reflections from the ground where people are using assembly processes to challenge the existing power structures and begin to re/create a decolonised relationship to power.
We'll hear from communities from East Africa, Chile and Scotland. In a day of online sessions, they will share their experience of assemblies or community-based decision making processes:
Why their assembly/ies began – what led to the decision to hold (the first) one?
How do they work, what has been challenging and what has been most successful?
How do they try to notice and prevent colonised habits from taking over in the assemblies?
What have the assemblies led to, what happens next?
The organizers want to create a space where we can learn and connect with one another, be honest about our mistakes and failures as well as celebrating our successes and manage the roller-coaster of depression and elation in this work – and in our sharing with one another.
Join them on October 1st to talk grassroots politics! Signing up is free at https://reworlding.earth/