We sat down to talk with Nawres Arif this past Thursday to discuss his maker program in Iraq. Nawres is a trained pharmacist but considers himself to be more than that. He is also an artist, designer, and robot maker. In around 2003, Nawres became a part of the global maker movement. His passion for making things and his hope to share his passion with others led him to found ScienceCamp in 2013. ScienceCamp became the first-ever maker space in Iraq. Nawres says that among many other goals, this maker space's main aim is to develop ways to "use science to make life better." 
Listen to the interview:
Nawres told us that the traditional education model in Iraq does not allow students to explore their passions. Learning tends to be more theoretical than hands-on, "education needs to be more practical, interactive, and fun." He found a solution to this problem in the maker movement. He tells us that the maker movement mixes all sciences rather than abiding by strict delineations between scientific fields. He finds that all knowledge is vital for shaping and improving society, and the maker movement's ability to mix and adapt is critical to progress. ScienceCamp is located in Basra, Iraq, an important oil region in Iraq. Nawres tells us that ScienceCamp is a place where the youth can use the knowledge they are acquiring through its maker programs to create sustainable solutions for an economy deeply dependent on oil.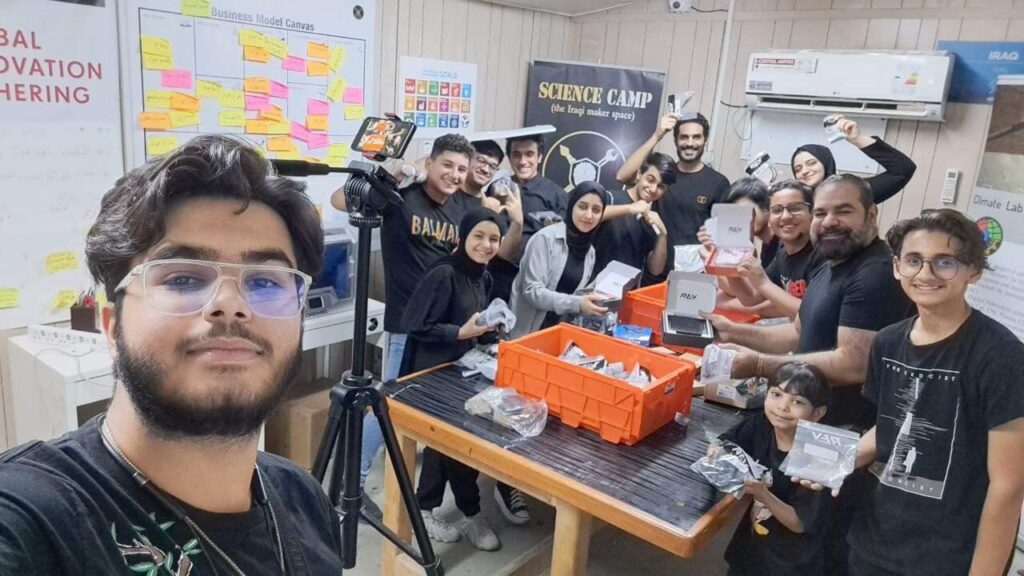 ScienceCamp has several main activities. For one, the camp provides a "healthy and supportive community" for members. It is a place where young people can share and exchange ideas, projects, and challenges. It is also a place where people can go on "scientific adventures" together, where a supportive community accepts all ideas. Secondly, ScienceCamp provides the infrastructure for all people to explore and carry out their ideas. Their facilities include 3-D printers, Full-bed Plasma CNC, double-headed CO2 Laser CNC, and more. Lastly, it is a place that provides services for people of diverse ages and backgrounds. ScienceCamp provides workshops such as the Polymer and chemical labs and Plastic recycling equipment workshops. Other services include digital fabrication, robotics manufacturing services, and more. Students at all levels of their education, from primary school to PhD, come to ScienceCamp to equip themselves with new skills, and to find support and collaboration from other like-minded and passionate individuals.
Nawres, and people at ScienceCamp, however, are facing challenges. Nawres notes that there are significant challenges concerning legislation in Iraq. Nawres emphasized the need to enact new legislation that makes it more possible to register, support, and encourage entrepreneurship in Iraq. ScienceCamp is dedicated to the mission of fostering entrepreneurship and solutions. However, Nawres notes that even though they receive international support, there is still a deficit of support locally. He says that the local bureaucracy kills funding, because, as he sees it, there is no clear way to support legislation. He notes, "We should be part of an ecosystem, but it has not been activated yet in Iraq." The mission of ScienceCamp is to build up local networks of support for innovation.
ScienceCamp's impact has been wide-reaching. Hundreds, even thousands of students, have found community in the program, participating in courses provided by ScienceCamp. A considerable part of the mission of ScienceCamp is to provide opportunities for everyone, and people from all over the world are a part of the community. All in all, ScienceCamp, as the first of its kind in Iraq, has been vital in building a community of makers that will work to generate sustainable, innovative solutions. The challenges they face today will be overcome tomorrow through the passion and dedication of Nawres and the maker community at ScienceCamp.