15 October 2022
@
8:00 am
–
5:00 pm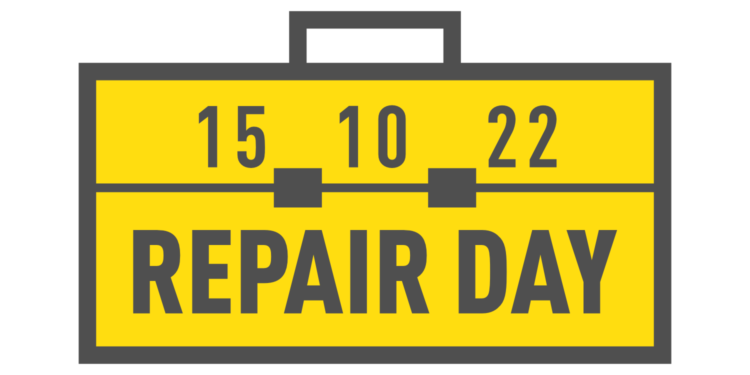 International Repair Day is a joint initiative of the Open Repair Alliance, celebrated every year on the third Saturday of October.
In 2022, Repair Day will take place on Saturday 15th October.
The theme for the 2022 edition is still to be announced, but it's never too early to start planning your own celebration.
Celebrate Repair Day
Check out their resources and get involved! There are many things you can do to celebrate International Repair Day: from attempting to fix something yourself to dropping by a local shop and get your devices back to life. We want everyone to take pride in fixing their things, and to motivate fixers – enthusiasts and professionals – to share their repair skills and get others involved.
We want everyone to be part of Repair Day, online as well as offline. Here are some ideas to get involved on the day:
Attend or organise a community repair event
Support a local repair business
Fix something yourself, or share your skills with others
Share a picture of your repair (successful or not!) or of a memorable repair
Join their mailing list for updates
Global Repair Day events
How are you going to celebrate? Are you planning an event or an activity for Repair Day? As in previous years, we will build a list of planned events all over the world. We will also provide resources you can use and share on social media. Keep an eye on this page or join our mailing list for updates.
Why Repair Day?
We want to make repair as visible as possible. This day highlights the value of repair and promotes global community efforts to fix the stuff we own.
During previous editions of Repair Day, we witnessed great interest and sharing through social media, where people posted their repair events and stories, and we heard from fixers and community repair events across the world, from the UK to Spain, Benin, Iran, Argentina or the US. In 2020, the focus was on #RepairIsEssential, with increased interest from the global press and from independent repairers. In 2021, our theme was 'Repair Lowers Carbon Emissions' in response to the alarming IPCC report on the climate and COP26 in Glasgow. Read more about Repair Day 2021 here.
International Repair Day also presents an opportunity to further promote community repair events globally: motivating active groups, encouraging new ones to emerge, and inspiring citizens to share their skills as volunteers.
Beyond repairing in the community, this day can help independent repair shops promote their work, and also inspire companies to show support for repair, sharing information, tools or spare parts.