Technology has become an integral part of our lives in today's fast-paced world. Technology has transformed how we live and work, from smartphones to smart homes. However, not everyone has access to the latest technology or the skills to use it effectively. This is where organizations like FabLab Nepal come in.
FabLab Nepal is a community-based digital fabrication laboratory that provides access to the latest technologies, such as 3D printing, laser cutting, and CNC milling, to people from all walks of life. Their mission is to empower communities through technology by providing access to tools and resources to help them bring their ideas to life.
In the following interview with Pradita Pradhan, the co-founder of FabLab Nepal, she shared her thoughts on the importance of technology access and critical technological education in today's world and how FabLab Nepal is helping communities in Nepal.
"We believe that technology is a great equalizer, and everyone should have access to it," said Pradita. "We aim to make it accessible to people who don't have the means to access it."
Founded in 2018 as part of ImpactHub Kathmandu, FabLab Nepal provides a range of services, including workshops, training, and equipment rental. They also collaborate with schools, universities, and other organizations to promote digital literacy and help people develop the skills they need to thrive in the digital age. In doing so, it is building a capacity-building platform for entrepreneurs and makers interested in education.
"Fab Lab Nepal's main focus is on training students around digital fabrication, with a six-week digital fabrication training using a project-based method," said Pradita. "Students participate in creating a project in six weeks, and during that time, they learn about the use of tools and methods."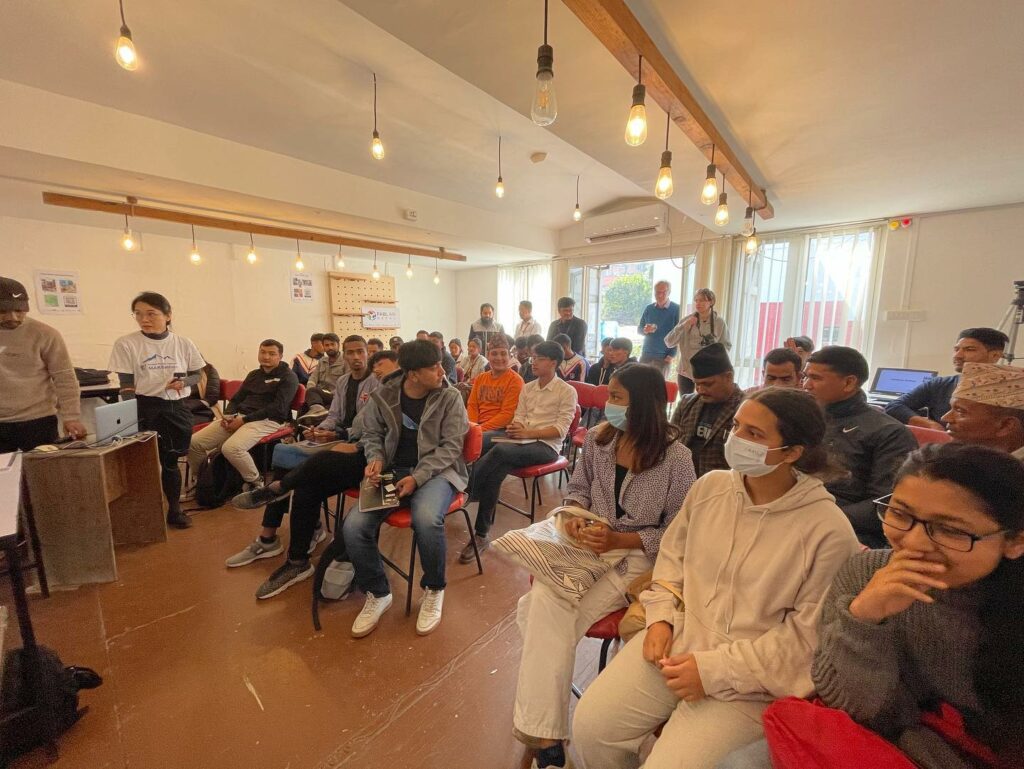 Fab Lab Nepal aims to make the lab accessible to everyone, and it also works to include more LGBTQI+ and women in its activities. "Initially, the lab was accessible for everybody, and different people arrived", said Pradita. "Still, when [we] started the medium and long-term courses, most participants were men." Fab Lab Nepal introduced girls-only hardware training programs to tackle this issue and suggested that schools follow a 50% male-female ratio in their courses. The impact of FabLab Nepal's capacity-building and training programmes has been significant for teachers and students from local government schools, which do not have the same resources as private schools. "The workshops are usually hosted in the lab because of the infrastructure… this approach links students who have access to technology with those who may not have the same resources, exposing them to choices and opportunities."
Working with schools and teachers can be a rewarding experience, but it has challenges. "One significant challenge is coordinating with multiple schools and teachers who operate on different schedules and have different exam dates", said Pradita. "This can make it challenging to plan workshops and other activities that align with each school's academic calendar." In line with the challenges of coordination, collaborating with teachers to ensure that the activities and materials being provided align with their curriculum and meet the needs of their students can also be a challenge. Additionally, working with bachelor and high school students can be challenging due to early morning workshops and the need to accommodate a wide range of learning styles and abilities. Effective communication and flexibility are vital to overcoming these challenges and ensuring a successful partnership with schools and teachers.
Pradita shares about a wonderful youth-led initiative that emerged from its education programs. A little while ago, the lab started using a plastic recycling unit; now, the teens are beginning a project to recycle plastic waste to create insulation for local houses. Calling this project Plastic to House, the youths hope that this project addresses the issue of tourists leaving plastic waste around during summer. "It is not a workshop that we do, but we incubate groups in plastic recycling as a business, helping them to prototype using different tools and methods", explained  Pradita.
Through its vibrant and engaging youth education programs, FabLab Nepal is indeed empowering the next generation of entrepreneurs and makers in Nepal. The organization exemplifies an impact-driven model prioritising technological accessibility and skills training for FabLabs worldwide!