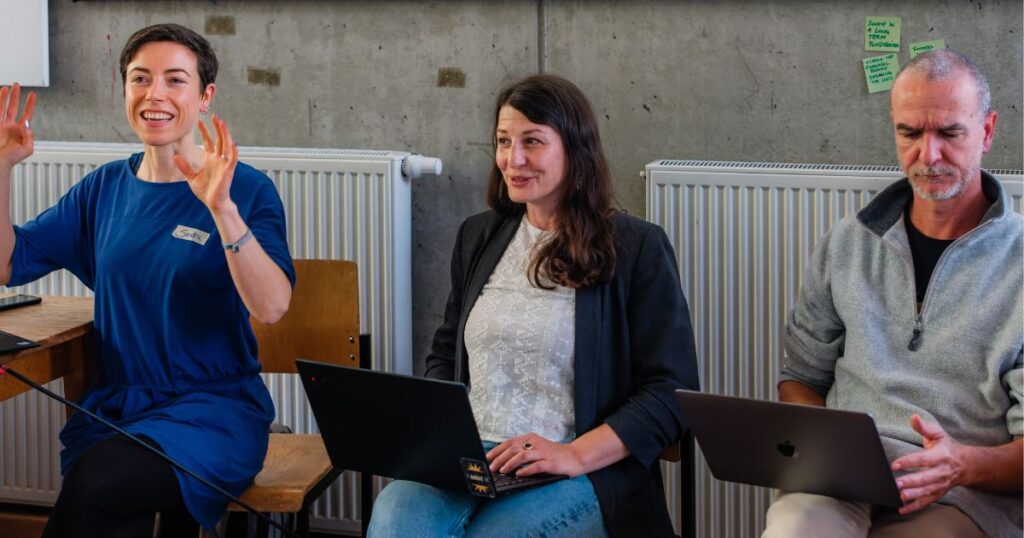 ---
The History of Global Innovation Gathering
Ten years ago, Global Innovation Gathering was driven by different points of inspiration, leading it to what it is today. Physical spaces designed to facilitate local innovation emerged as a prominent and rapidly growing trend. As such, these spaces served as points of inspiration, allowing innovative minds to collaborate and work together on technological advancements. However, the vast number of worldwide individuals who remained unaware of one another and lacked the means to connect was a significant challenge. Emphasizing a "strength in numbers" mentality, the vision was to unite these creatives and diverse communities to achieve more significant goals and overall collective impact.
The solution involved bringing together these innovators and diverse spaces from different parts of the world to a central location like re:publica, a festival for the digital society and the largest conference of its kind in Berlin, Europe. re:publica provided a global stage and an international audience, enabling innovators from all around the world to showcase their work and ideas. Throughout the years, a community of trust and friendship was born. Notably, the concept also incorporated hosting numerous makerspaces and innovation hubs focusing on software and hardware while producing frugal forms of technology.
As new contributors joined the GIG community, a cross-pollination of innovative ideas and projects emerged, giving rise to an international network of like-minded individuals. Today, the GIG network consists of people from across the globe who have established physical spaces dedicated to digital innovation and are actively working on open and social technology in collaboration with their communities.
What Is Global Innovation Gathering Doing Now
Global Innovation Gathering was established in 2016 through a grassroots approach driven by a bottom-up process. In 2018, Sandra Mamitzsch joined GIG as the organization's first employee and played a pivotal role in setting up the Berlin-based office space for their inaugural major project Careables, an initiative funded by Horizon 2020.
The success of Project Careables opened doors to even more significant opportunities. Since then, GIG has collaborated with incredible partners, leading to the development of four ongoing Horizon Projects, amongst which is CoAct, a project exploring the realm of citizen social science and focusing on participatory processes within these social science spaces. Another project GIG is working on is mAkE, which fosters connections between makers in Europe and Africa, thereby uniting various networks associated with makerspaces.
Moreover, GIG engages in a meaningful partnership with the North South Bridges Foundation, facilitating funding directly to member hubs and makerspaces, enabling the organization to support and empower its community members in tangible and impactful ways.
Emphasizing the importance of gatherings, the organization also provides a platform for all participants to unite, fostering creativity and collaboration. These gatherings offer online and in-person opportunities for individuals to connect, share ideas and collectively create innovative solutions for societal challenges.
What to Look Forward to With Global Innovation Gathering
As the Global Innovation Gathering ventures into the future, it is thrilled to carry forward its mission and vision of establishing a more inclusive and sustainable innovation ecosystem. GIG is brimming with plans and ideas to expand its network, amplify its impact and explore exciting collaboration opportunities.
For the upcoming years, GIG aspires to scale up the gatherings by extending their reach to different countries, enabling the organization to showcase an even more diverse array of innovative projects and solutions from all corners of the globe and simultaneously aiming to enhance the capacity of offering a broader range of training workshops, ensuring relevance and diversity while fostering peer-to-peer learning and mentorship opportunities.
Growing the GIG network is pivotal as accommodating more members and partners is one of the main goals, providing increased resources and facilitating co-working, co-living, and co-making. Through its many projects, GIG also aspires to play an active role in advocacy and policy work by influencing the innovation agenda and supporting the development of nurturing environments for grassroots innovation.
Another one of GIG's aspirations would also be to inspire other organizations to adopt its impact model and create positive change in the world. As an organization, GIG firmly believes in sharing its experiences and inviting others to join this journey towards innovation for social good. Through recognizing that "together is better", GIG is committed to making a tangible difference in the world through collective efforts and collaboration.
Embracing the power of unity, the Global Innovation Gathering is eager to forge meaningful partnerships and create a ripple effect of positive transformation on a global scale.