Authors: Harinjaka Ratozamanana, Chris Doering, Daniela Marzavan,
The rise of e-government announced a great change in public administrations—but how could it be without Global Innovation Gatherings "change darers" ?
Public sector organisations have always looked out for new ways to fulfil their public mission.
This November—together with Mazavan Innovation, Data Natives, and the Connective Cities platform—members of the Global-Innovation-Gathering-community are taking part in some virtual magic towards "hacking" municipalities worldwide and help them to experiment with new ideas, processes, networks, management tools and technologies in order to create public value and effect positive change.
Daniela Mazavan is taking part in the Capacity Strengthening capsules and sharing her knowledge about Innovation Ecosystems for Urban Development among many selected experts. Sénamé Koffi Agbodjinou from Woelab Togo talks about his work at Hubcity and his ongoing project in cooperation with his local municipality. Harinjaka Ratozamanana from Hackoragna.coop is one of the Hackathon Mentors as he organised #Hackoragnavirus in Madagascar and participated actively at The Global Hack and The Municipality Global Exchange in 2020. Ricardo Ruiz Freire represents Careables and shares his works on open heath at his municipality of Olinda in northeastern Brazil.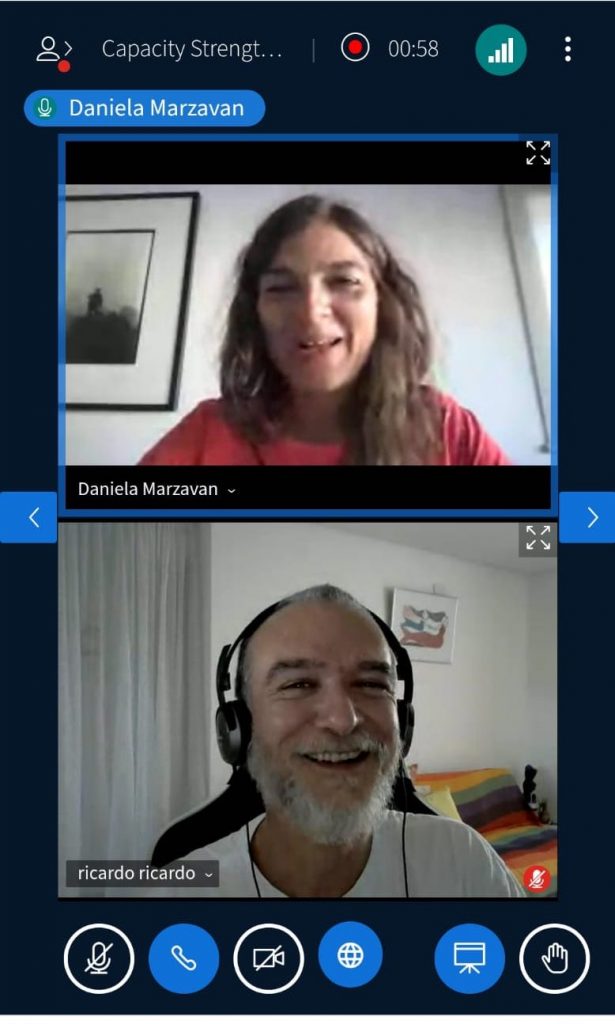 We all know the nature of many public administrations—complex organizational structures and cross-boundary constraints, unsolvable by conventional government tools,approaches and mindsets. Reinforcing the capacity of the public sector to innovate and invent solutions to the complex and intractable problems faced by society, is one of the missions.
Unlike most national governments, cities are in close contact with their citizens—and they are the ones, after all, who are responsible for the execution of measures enacted by national governments to face issues like the global pandemic challenges, immigration and social inequality, set within complex administration in which citizens have to navigate and find their way around
Connective Cities LAB consists of a series of online events, which celebrates co-creation and facilitates practice-oriented sharing of experiences between German municipalities and projects of international cooperation, processing new learning experience on effective solutions and feeding them back into the Community-of-Practice—A 20-day open and flexible online program for local municipal employees and urban practitioners around the world.
On November 9th, we had data scientists & enthusiasts, developers, designers, urban experts & everyone who wants to help cities thrive to join our INFO DAY event on November 9th -> https://bit.ly/30Hd1rm
and find out how their skills can contribute to the future of cities worldwide!
What's in it for you:
> Build connections with like-minded individuals globally
> Get the chance to work with municipal actors around the world who are eager to work with young talent
> Receive support for your solutions through meetings with funding bodies and investors
You are also invited to join the Digital #Hackathon planned From 17 to 20 November 2021
Urban practitioners from around the world are coming together online to develop solutions for challenges regarding the local economy, green urban development, innovation ecosystems, crisis communication, digitalisation, public health, crisis management, gender sensitivity, industry and education.
Participants get full access to international experts and urban practitioners from other cities, who will support them to develop solutions and prototypes to the challenges they are working on in their local community.
MEET other urban practitioners around the globe and expand their network of support
SHARE their own knowledge and experience and challenge others
LEARN new skills and strategies for better crisis response
CREATE tangible useful solution for your community
PREPARE for future real-world challenges
RECEIVE guidance for funding for your project
How to join:
Sign up to www.community.connective-cities.net (free of charge) and create your profile.
Choose the clusters of your interest (Digitalisation, communications, mobility, etc) at https://community.connective-cities.net/en/node/715
Identify the working groups inside each cluster according to the challenges you have to deal with at work or your upcoming projects.
Participate or become a leader of a group of international municipalities with similar challenges to exchange experience, resources and potentially partner for solutions.
Develop a solution that can be shared and potentially implemented within other municipalities in the Connective Cities Network
Think local, act global. Help strengthen your support network of cities and find experts to assist you tackle future challenges.
About Connective Cities
Connective Cities Is joint venture between the Association of German Cities (Deutscher Städtetag), the Deutsche Gesellschaft für Internationale Zusammenarbeit (GIZ) GmbH and the Service Agency Communities in One World (a division of Engagement Global) and aim to support the digitalization of cities.
For any questions regarding the CONNECTIVE CITIES LAB, please contact Daniela Marzavan at [email protected] and [email protected]
CCLab is implemented by Marzavan Innovation & DTG Spain for Connective Cities.
Hashtag:
#CCLAB #covid19municipalresponse #connectivecities #connectivecitieslab #connectivecitieshackathon