MboaLab committed to educating, transforming and positively impacting the lives of the Cameroonian people through its DIY lab.
Last February, Mboalab, in partnership with the University of Cambridge, inaugurated its "Bio-Innovation Hub". This Hub is a shared biotechnology laboratory made available to researchers and students and is already undoubtedly contributing to the democratisation of biotechnology in Africa.
Founded in 2018, with the aim to tackle the lack of biology laboratory equipment and reagents; MboaLab started bridging the gap in access to scientific equipment, particularly in Cameroon. This is the seed of what became the DIY biotechnology lab, MboaLab, in 2018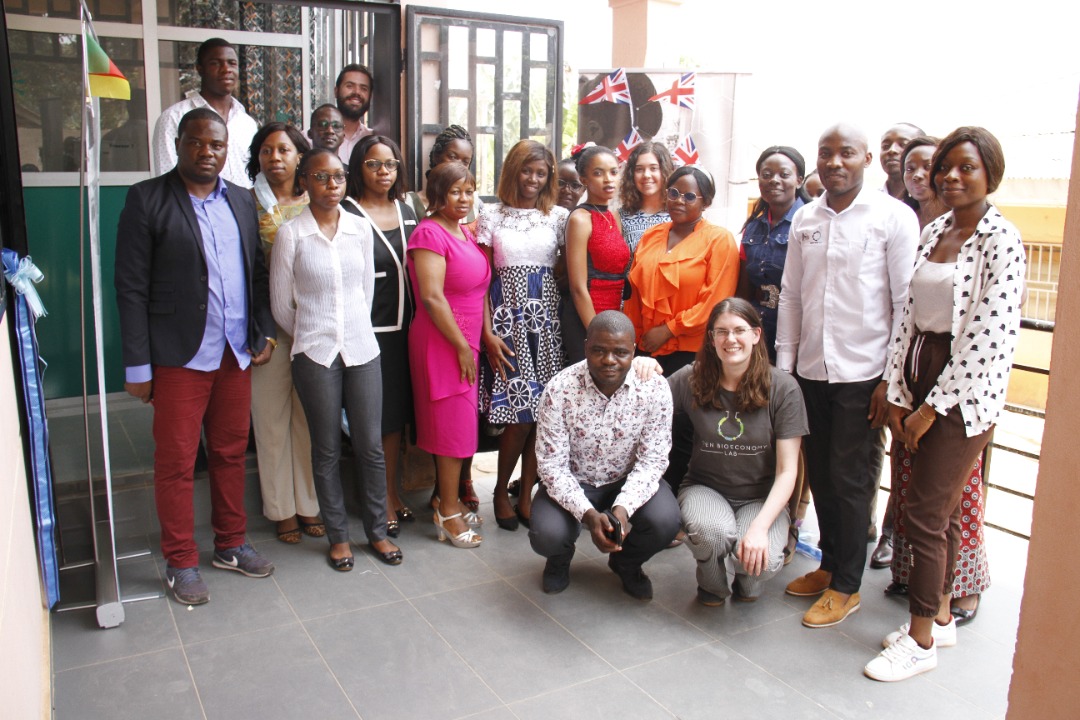 DIY biotechnology labs believe that science shouldn't be reserved for those who are formally qualified scientists and that anyone and everyone should be able to dabble in science. Therefore, in partnership with local universities, MboaLab organises and runs internship and training programs to equip growing talents in molecular biology, synthetic biology, engineering, and biotechnology. As a result, about 50 researchers will be trained through their labs in the next two years in methods revolutionising molecular biology-based research.
DIY biotech labs enable the average citizen to partake in science safely. In addition, they position themselves as sustainable and ethical organisations that can support and improve the living conditions of their local communities.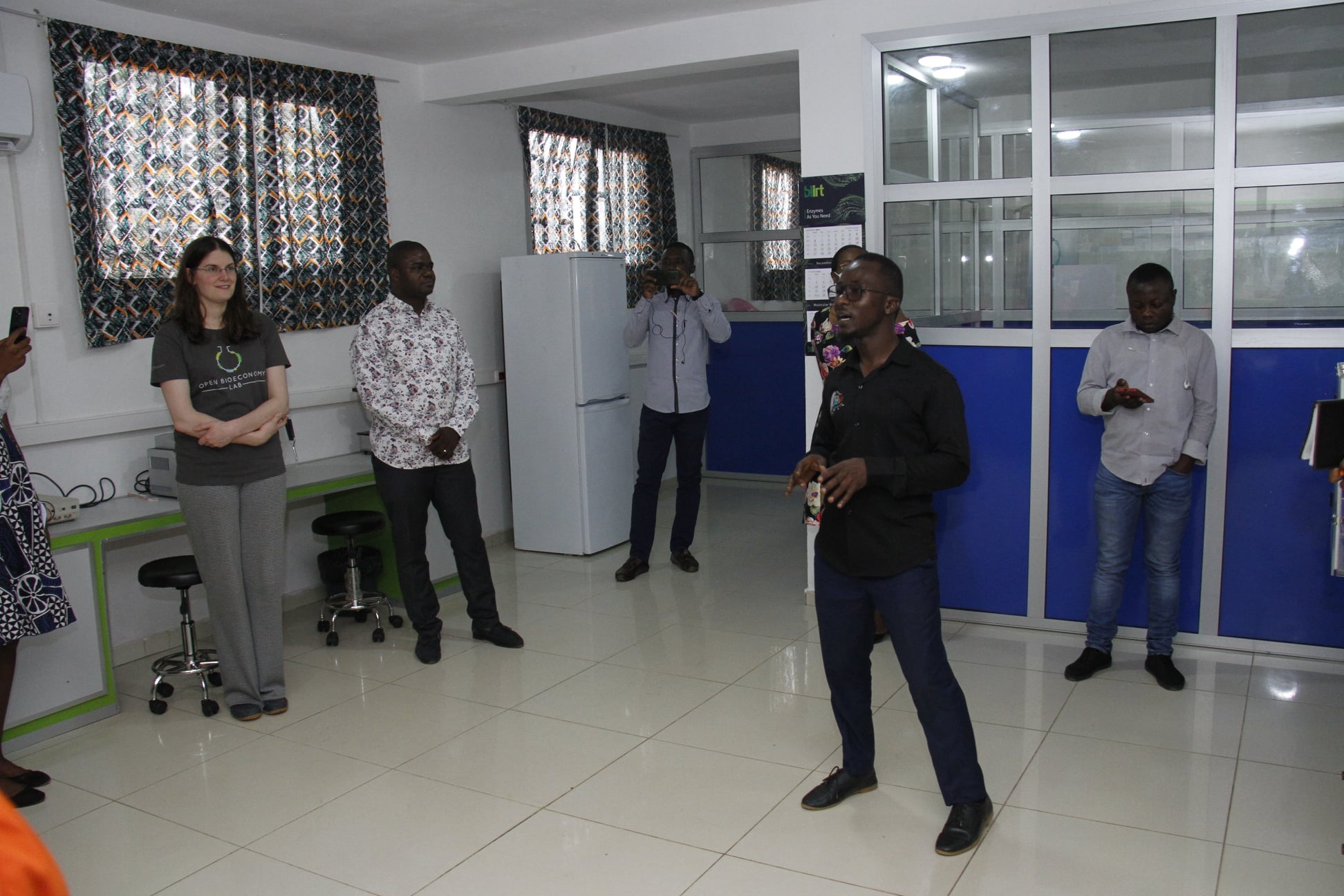 As emphasised by its motto; "Catalyse Local Sustainable Development Through Open Science," MboaLab has placed its impact on the local community as its primary ambition. Open science benefits from spurring innovation within a local context, focusing on ensuring it meets the community's needs. The lab's vision is to endeavour that all the tools, innovations, resources, and products are developed to solve specific needs within a local context. Moreover, the activities in MboaLab have a vital gender inclusion mindset. They promote the participation of women in science by offering science workshops and training programs. These also serve as a means of promoting makerspaces with a critical perspective for sustainable development.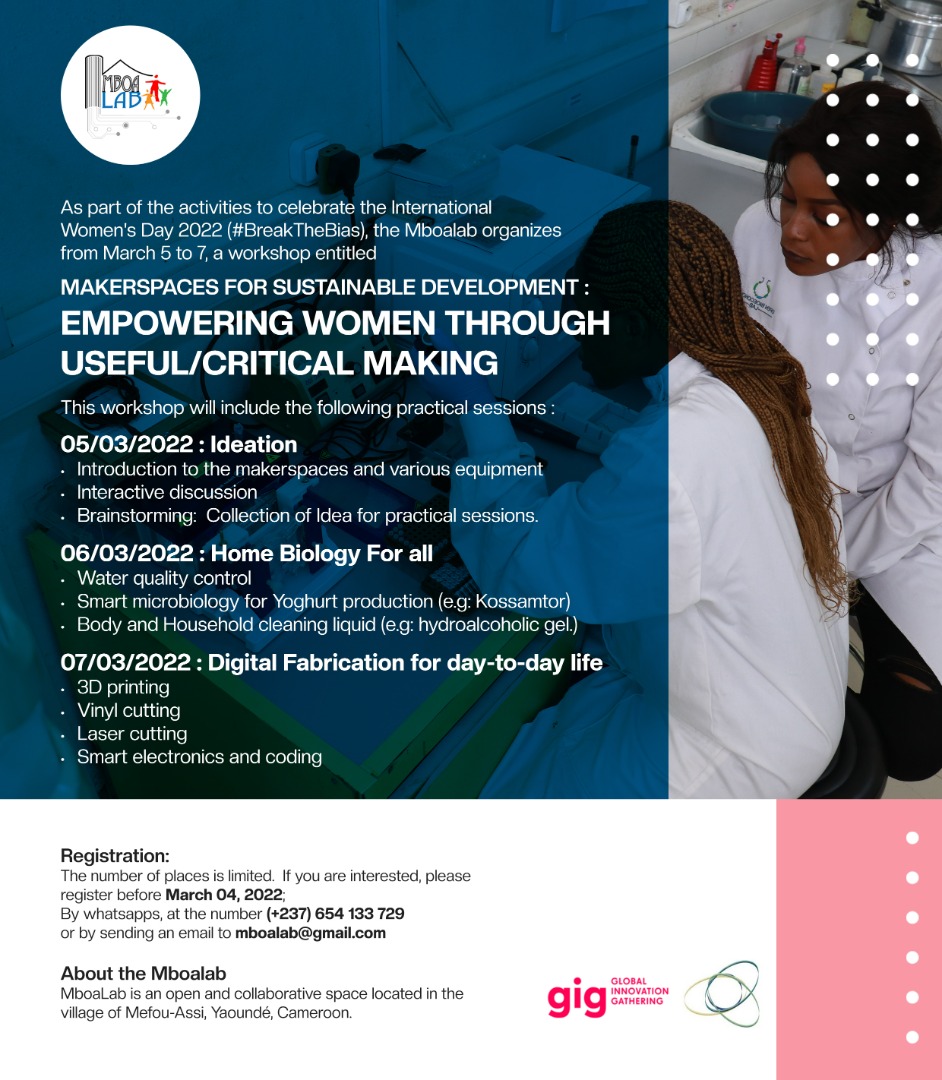 For instance, MboaLab formed a three-way partnership with the Open Bioeconomy Lab (at the University of Cambridge) and the University of Buea in Cameroon on the Typhoid DX Project. This collaborative effort is aimed at developing a locally manufacturable DNA-based diagnostic tool for typhoid fever using cutting-edge molecular techniques.
Typhoid fever is a threat to many tropical countries, showing a worldwide estimate of about 212 million cases with 129,000 deaths yearly and is responsible for over 500 deaths in Cameroon per year. Typhoid fever and paratyphoid fever are caused by related but different strains of the Salmonella bacteria and can effectively be treated with the appropriate antibiotics. However, limitations in the efficacy of diagnostic assays currently employed and the emergence of drug resistance threaten the clinical management of the disease. It is thus crucial to develop a tool to efficiently identify and distinguish the two causative agents of typhoid and paratyphoid fever.
MboaBioLab also promotes workshops for the local development of diagnostic based on CRISPR Technologies. CRISPR is a genetic engineering technique in molecular biology by which the genomes of living organisms can be modified. It is based on a simplified version of the bacterial CRISPR-Cas9 antiviral defence system. By delivering the Cas9 nuclease complexed with a synthetic guide RNA (gRNA) into a cell, the cell's genome can be cut at the desired location, allowing existing genes to be removed and/or new ones added in vivo (in living organisms). It can be used to develop a next-generation molecular diagnostic test that could be customised to virtually any disease, infection, or mutation. Furthermore, it could be used to develop diagnostic tests that can be administered at home, at the point of care or during a disease outbreak to get a quick readout and allow a faster response.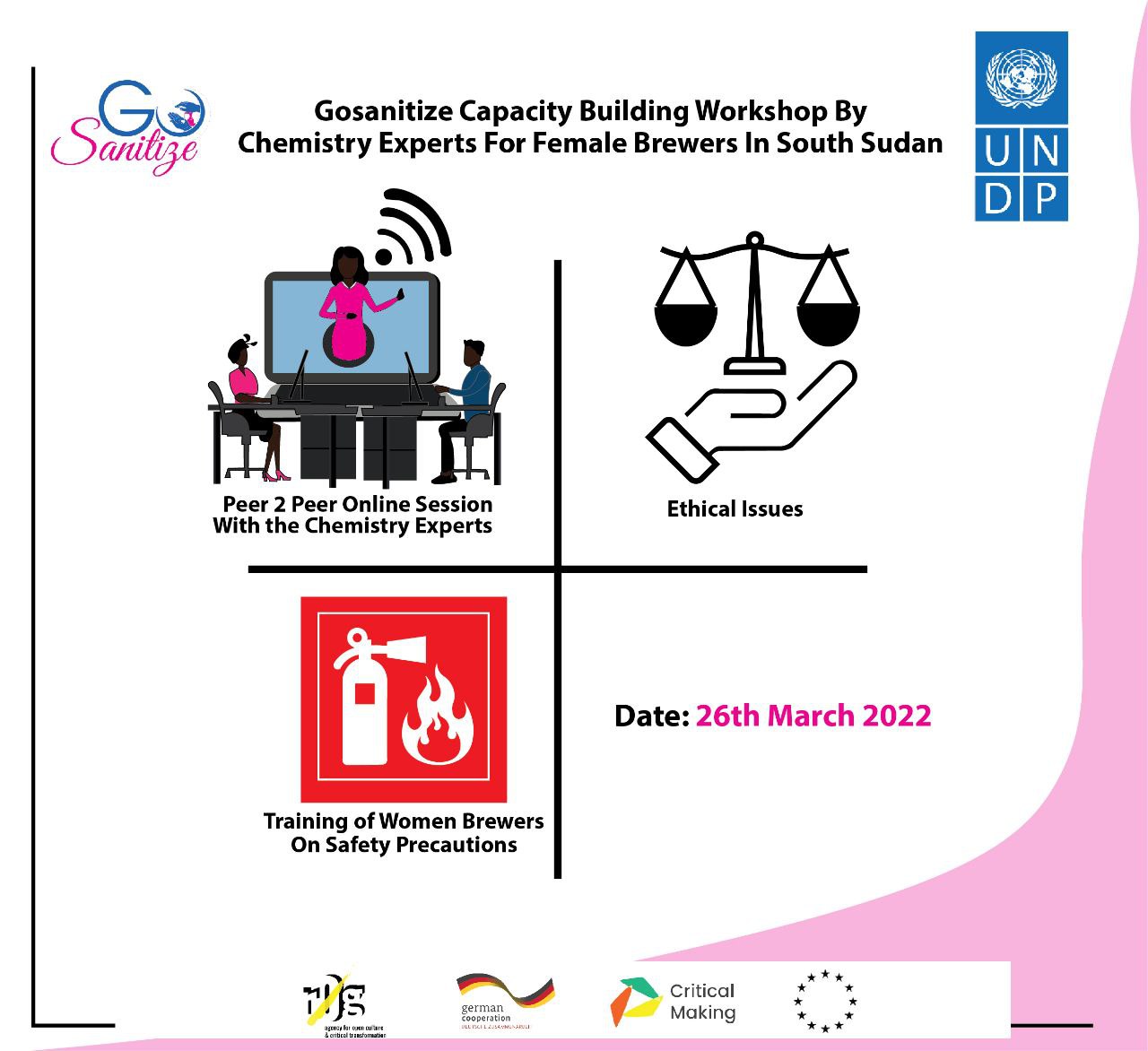 In recent months, MboaLab has further collaborated with different African continent partners to promote Open Science. A great example is the peer-to-peer virtual exchange with The Gosanitize team and chemistry experts from South Sudan to share notes on their sanitisers' production methodologies and train local brewers.
MboaLab has also partnered with local hospitals and clinical medical laboratories, enabling these establishments to have exclusive access to tools and protocols developed by MboaLab.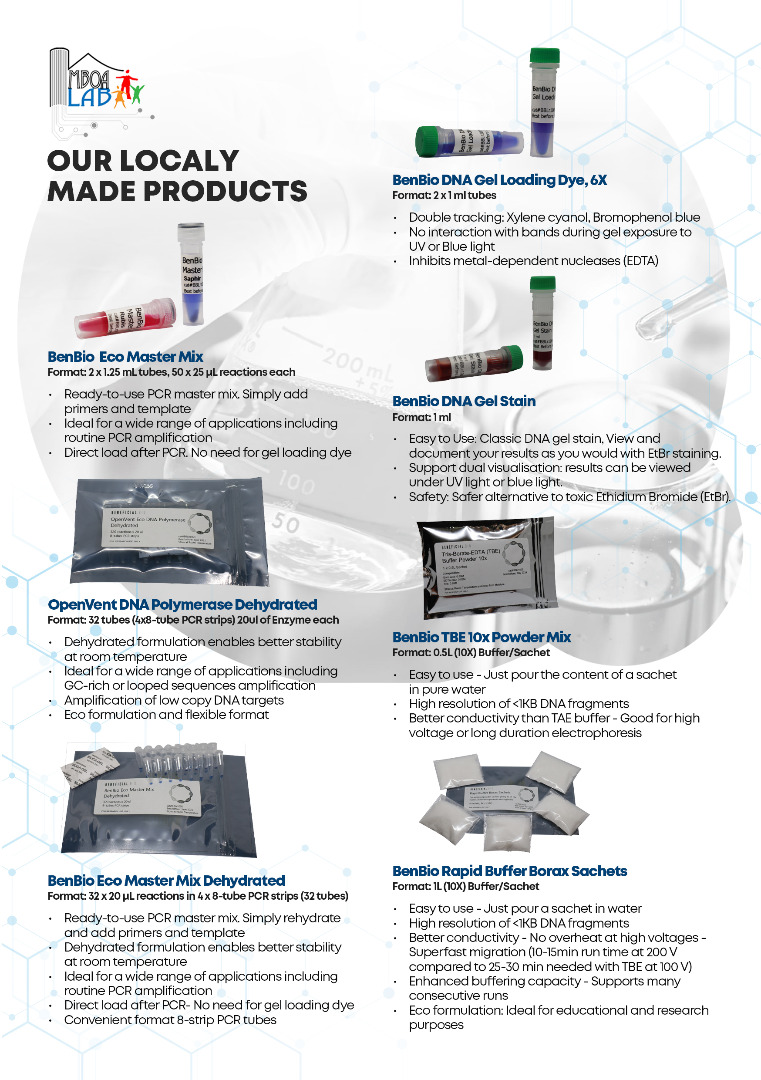 The Mboalab in the diversification of its activities works with the UK Based not for profit Beneficial bio Ltd with the double objective of locally producing laboratory reagents and equipment but also facilitating timely access to affordable equipment and reagents of quality not yet locally produced. The logic of import-substitution is advocated by both entities regarding African researchers' purchasing power. Funds available for research in Cameroon are limited. Even worse, equivalent products often cost more in Cameroon than in places like Europe or the US. By producing locally, products can cost up to 35% less than the same product sourced via foreign suppliers. These gains are shared evenly with researchers' communities.
In addition to democratising biotechnology in Africa, Mboalab is engaged in capacity building of local talents; and promoting the training of MA in advanced digital development.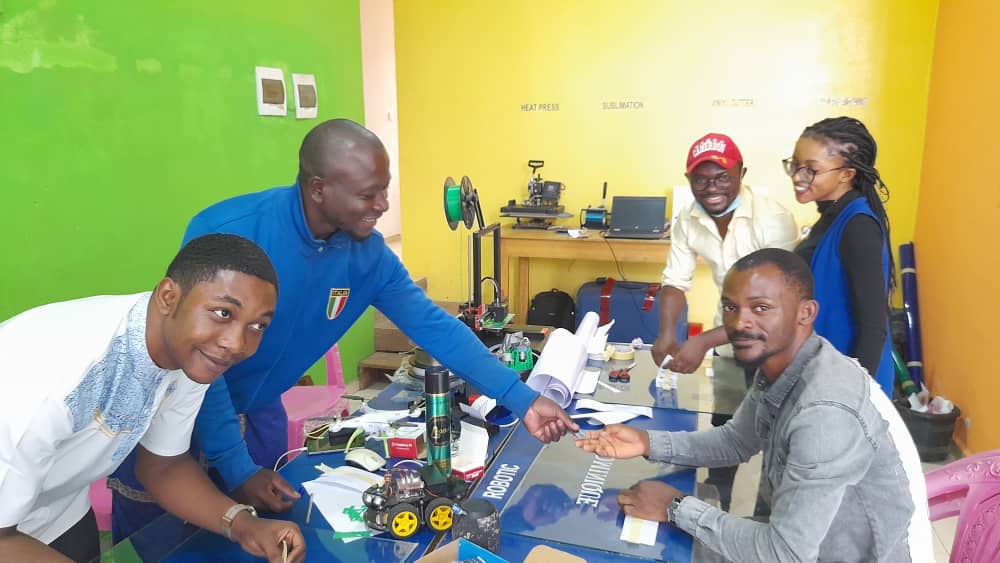 DIY biotech labs are a way for everyday citizens to play an active part in solving problems through science and shaping the future of our world. The DIY lab community are keen to have as many people on board as possible. As Legault proclaims, "Only when millions more can problem-solve using biology will our human and ecological problems be solved."
So, if you have always wanted to try genetic engineering, your next step should be to join the DIY biotech lab movement! Follow MboaLab on Twitter and learn more!