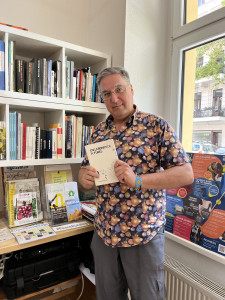 On a sunny Monday afternoon, wandering through the streets of Charlottenburg, quietly tucked away on Knobelsdorffstrasse directly near Schloss Char  lottenburg lies r0g_agency, co-directed by longtime friends of GIG, Stephen Kovats and Susanne Bellinghausen.
 "open culture" is plastered on the window in bold yellow lettering that if the sun hits it directly, it reflects perfectly over the white arched walls inside, further echoing core values of r0g_: accessibility, innovation, and peacebuilding. r0g_agency works with local grassroots organizations in the Global South to support openness within a developmental context. 
As we walk through the front doors, we are warmly welcomed by our hospitable host, Stephen, and their summer intern from the University of Alberta, Lisa. Looking around, the walls are decorated with various educational materials, including a mock game board highlighting the dangers of irregular migration and the struggles migrants often face. 
Currently, the list of ongoing projects is somehow interconnected and related to one another. From counteracting online incitement to violence with #defyhatenow to empowering women in conflict zones through the Feminist Café, r0g_agency examines two main areas of peacebuilding and development with intersections in between. Another project to keep an eye out for is #ASKnet: Access to Skills and Knowledge Network. Essentially, #ASKnet helps to foster youth-led hub spaces in South Sudan and Uganda to empower their communities.  
During our conversation, we discovered that Stephen's interest in accessibility goes way back to his days as an architecture student in Canada. Coming to Germany as a bright-eyed young student, he became inspired by the radical absorption of East Germany into West Germany; this was one of the catalysts of seeing rapid cultural shifts.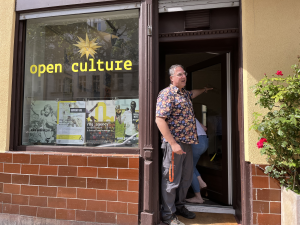 This essentially launched the idea of societal change through hacktivism, critiquing, and reflecting on our cultural values. The name r0g_ itself is a challenge to the status quo, rewriting the negative connections between hacking and criminality, instead focusing on the more positive definition of exploration of knowledge and going outside the norm. 
Overall, one of the most interesting takeaways for me from our interview with Stephen was the different interpretations of words and the importance of bridging the gap in our understanding of language in the context of innovation and development. From my interpretation, r0g_ simultaneously focuses on the technical side of innovation and the importance of education in the attempt to understand one another. An open culture is something that is receptive to learning the differing perceptions of not only words but worldviews, systems and ways of being. This ensures that at the end of the day, we are all speaking the same language in order to enact meaningful change 🙂
For further information regarding r0g_, please feel free to visit their website at https://openculture.agency/ and check out their current projects such as #defyhatenow at https://defyhatenow.org/ or #ASKnet at https://asknet.community!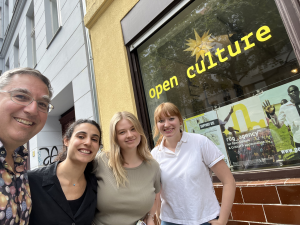 Additionally, you can listen to the full interview: